Women step up in House GOP leadership. Why that's just a start.
(Read article summary)
Cathy McMorris Rodgers rises to the No. 4 position in the House GOP leadership, which saw a net add of one woman to its roster. But the party lags badly in having women among its ranks in Congress.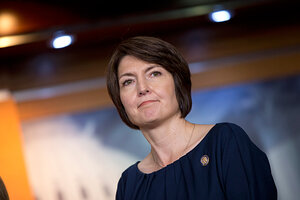 J. Scott Applewhite/AP
Rep. Cathy McMorris Rodgers of Washington claimed the fourth-ranking position in the House GOP Wednesday.
But even as her ascent up the leadership ladder showed Republicans realize they need to improve their standing with female voters, it was also the exception that proves the rule that Democrats have done far more to reach out to women, including by electing them to Congress.
With the backing of House Speaker John Boehner, among others, Representative McMorris Rodgers defeated Rep. Tom Price of Georgia, a former chairman of the largest House conservative caucus who had the backing of former vice presidential nominee Paul Ryan, in the race for the GOP's conference chairman.
That news was welcomed in many GOP circles as a good sign for a party that endured a yawning gender gap in the 2012 election cycle, where Democrats won women's votes by an 11 percent margin over their Republican foes.
"She is a firebrand for conservative women, and electing her to the chairmanship is the first step in a much-needed transformation of the GOP party," said Sabrina Schaeffer, the executive director of the conservative Independent Women's Forum, in a statement. "The party – still viewed by many as too old, too white, and too male – needed a shakeup, and Congresswoman McMorris Rodgers is the right person for the job."
---