Bill Clinton upstages Jerry Brown in California governor's race
(Read article summary)
The rivalry between Jerry Brown and Bill Clinton, including personal attacks, goes back years. Now, they're having to make nice as Clinton – highly popular in California – stumps for Brown.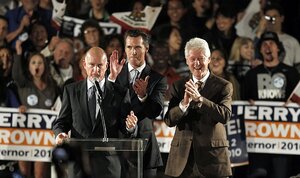 Chris Carlson/AP
In California Friday night, two lifelong politicians with Olympic-size egos and a decades-long rivalry featuring really nasty exchanges occupied the same stage at the same time without killing each other.
For a while, in fact, it actually looked like they got along (though it may have been through gritted teeth).
Such is the necessity of campaigning when intraparty bygones really do have to be bygones if one is to win in closely-contested races.
We're talking about Democrats, of course, in this case Bill Clinton and Jerry Brown.
The former president was at UCLA stumping for the once and (perhaps) future governor of the Golden State. Clinton said nice things about Brown.
Brown reciprocated, but he has a problem.
Back in 1992, Brown and Clinton fought it out for the Democratic presidential nomination. They slammed each other's positions and records, sometimes falsely – Clinton suggesting that Brown had raised taxes during his first stint as governor, Brown alleging that Clinton (as governor of Arkansas) had directed state contracts to Hillary Rodham Clinton's law firm in Little Rock. And of course it's all on tape.
Meg Whitman – the billionaire former eBay executive and Republican candidate for governor – is having fun with all of this.
---