First Amendment flap: Was Christine O'Donnell touting 'tea party' view?
(Read article summary)
First Amendment and church-state separation were debated Tuesday between Delaware Senate hopefuls Christine O'Donnell and Chris Coons. Her stance is akin to that of some tea party activists.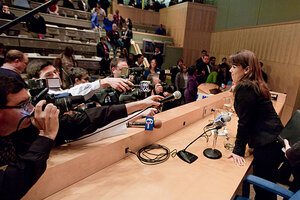 Robert Craig/AP/Pool
Delaware GOP Senate candidate Christine O'Donnell on Tuesday during a debate with opponent Chris Coons seemed to question whether the Constitution calls for a separation of church and state. So what's her view of the First Amendment?
The First Amendment is the section of the nation's founding document that deals with church-state issues, after all. The First Amendment reads, in part, "Congress shall make no law respecting an establishment of religion, or prohibiting the free exercise thereof...."
To Ms. O'Donnell, it may be the second clause there – "prohibiting the free exercise" – that's most important. That means the government can't interfere with religion, she emphasized in remarks to National Review Online after Tuesday's debate at Widener University School of Law in Wilmington, Del.
To O'Donnell, that means, for instance, that public schools should have the right to teach intelligent design as a theory of how life on earth came to be, along with the theory of evolution.
---