Ron Paul wins CPAC poll. Does it matter?
(Read article summary)
Ron Paul won the CPAC presidential poll, and Mitt Romney came in second – the same as last year. But many at CPAC said they "wished the GOP had a better field of potential candidates."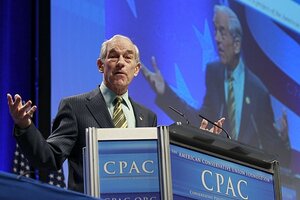 Alex Brandon/AP
Ron Paul's winning the beauty contest at this weekend's Conservative Political Action Conference doesn't come as a big surprise. He won CPAC's presidential straw poll last year, and it's an activist gathering with a strong libertarian tea party tinge.
Paul, a Republican congressman from Texas, took 30 percent of the vote with former Massachusetts governor Mitt Romney winning 23 percent – almost exactly where they placed last year.
Trailing far behind in single digits were Sarah Palin and Mike Huckabee (neither of whom attended the conference), former House Speaker Newt Gingrich, New Jersey Gov. Chris Christie, former Gov. Tim Pawlenty of Minnesota, Rep. Michele Bachmann of Minnesota, and Gov. Mitch Daniels of Indiana. Bringing up the rear were Sen. John Thune of South Dakota, former Gov. Jon Huntsman of Utah, and Gov. Haley Barbour of Mississippi.
---