Why Mormonism might not be a problem for Mitt Romney
(Read article summary)
A poll released Wednesday suggests that a minority of Americans are 'entirely comfortable' with the idea of a Mormon president. But voters' concerns about the problems facing the country might override any concern they have about Mitt Romney's religion.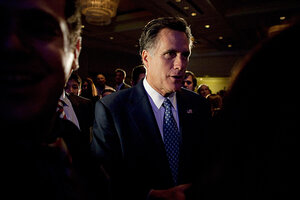 Joshua Roberts/REUTERS
The latest Quinnipiac poll reinforces the idea that former Massachusetts Gov. Mitt Romney could face problems over his Mormon faith in his quest for the presidency.
The poll, released Wednesday, found that only 35 percent of American voters are "entirely comfortable" with the idea of having a president who is a member of the Church of Jesus Christ of Latter-day Saints. That falls well below American comfort levels with a Catholic president (60 percent), Jewish president (55 percent), and Evangelical Christian (43 percent), but ahead of an atheist (24 percent) or a Muslim (21 percent).
Most American presidents have adhered to mainline Protestant religions, with the Catholic President Kennedy being an important, groundbreaking exception.
When voters were asked if they have a generally favorable or unfavorable opinion of the Mormon religion, only 45 percent said "favorable," according to the poll, conducted by the Quinnipiac University Polling Institute in Hamden, Conn. Thirty-two percent said "unfavorable" and 23 percent either didn't know or gave no answer.
"The fact that less than half of the voters have a favorable view of the religion is likely to be a political issue that Gov. Mitt Romney, and should his campaign catch on, Gov. Jon Huntsman, will have to deal with as they pursue the White House," writes Peter Brown, the institute's assistant director.
---