While Obama gets aggressive on jobs bill, GOP plays nice ... for now
(Read article summary)
Republican House leaders haven't been slamming President Obama's jobs proposal. But it's not a new political Age of Aquarius. They all face re-election, and voters are fed up with partisanship.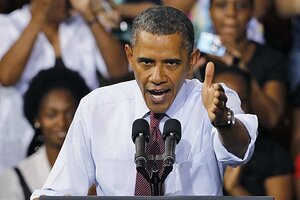 Steve Helber/AP
President Obama may have shucked his Mr. Cool persona in stumping for his jobs proposal, heatedly and repeatedly demanding that Congress "Pass this bill!" – aggressively taking his message straight to the district of House Republican Majority Leader Eric Cantor and the home state of Speaker John Boehner. The jacket's off, the sleeves rolled up, the fists clenched tight. He's (figuratively) grabbed them by the shirt front.
But over on the GOP side of the ring, the congressional leadership seems to be using judo's "gentle way," not Ultimate Fighting Championship® knock-out tactics.
In their letter to Obama the morning after his feisty address to a joint session of Congress, House Republican leaders were all sweetness and light.
"Dear Mr. President," they began. "Thank you for your address … it is our desire to work with you to find common ground … we believe your ideas merit consideration … We share your desire for bipartisan cooperation."
It was signed "Sincerely" – Sincerely! Little smiley faces or xoxoxo kisses would not have been inappropriate.
No, the Age of Aquarius has not dawned in Washington. Boehner and Cantor do not have flowers in their hair. Peace is not guiding the political planets nor is love steering the stars at either end of Pennsylvania Avenue. (For you millennials, the reference is to a line stolen from the 1967 musical "Hair." Ask your parents, or check out the signature song here.)
---