On National Day of Prayer, plenty of politics
(Read article summary)
National Day of Prayer activities may have more political undertones than usual this year, as religious groups take aim at what they see as President Obama's attacks on religious freedom.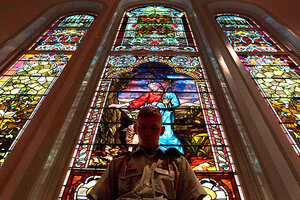 Dave Martin/AP
"One Nation Under God." That line, enshrined in the American Pledge of Allegiance, is the theme selected by a self-appointed "task force" that seeks to set an agenda for Thursday prayer events around the country.
But if you were expecting this day to be all about quiet reverence and heartfelt petition, well, just remember that this is an election year, and that religion is a topic that sometimes generates a wee bit of controversy in the public square.
Yes, legions of Americans including Marines in Georgia and residents of Colorado Springs are gathering to pray, whether led by pastors or kneeling in silence among church pews.
The other reality of this day, however, is that it has become an annual part of the political fabric. It's a day when politicians appeal to voters as people of faith, when interest groups cast wary judgment on politicians, and when many atheists and civil libertarians seek to cast doubt on the very concept and constitutionality of an annual day for prayer in the US.
Start with the fact that it's the president who proclaims the National Day of Prayer (following a 1952 law), but the task force publicizing the "One Nation Under God" theme – the National Day of Prayer Task Force – is headed by the wife of James Dobson, founder of Focus on the Family and a leader in the evangelical Christian movement.
---