Video: stronger chief needed to solve intel woes, John Boehner says
House minority leader John Boehner said the 'Top Secret America' report revealed what he already knew: The US intelligence system needs a strong leader.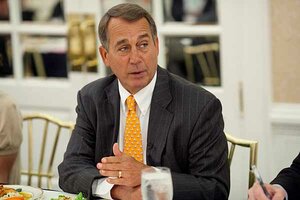 Michael Bonfigli/Special to The Christian Science Monitor
House Minority Leader John Boehner said he was not surprised by the contents of the Washington Post's exhaustive report on the government's response to the terrorist attacks of September 11, 2001.
"I don't know that there was anything in those articles that I have seen thus far that has surprised me," Representative Boehner said in response to a question Wednesday at a Monitor-sponsored lunch for reporters. As a member of the leadership, Boehner is one of a handful of senior Congressional officials briefed on the most sensitive US intelligence activities.
The Post's report said, "The top-secret world the government created in response to the terrorist attacks of Sept. 11, 2001, has become so large, so unwieldy and so secretive that no one knows how much money it costs, how many people it employs, how many programs exist within it or exactly how many agencies do the same work." Among other things, it discovered that some 1,271 government organizations and 1,931 private companies work on programs related to counterterrorism, homeland security, and intelligence in about 10,000 locations across the United States.
Boehner said the Post's findings underscore "what the 9-11 commission pointed out in terms of how much activity is out there and the fact that there needs to be better coordination…. It really points out the need for the DNI [Director of National Intelligence] to have a stronger role in coordinating the information that is necessary for a lot of different customers around the government."
Related:
---
Follow Stories Like This
Get the Monitor stories you care about delivered to your inbox.