Conan O'Brien rebuffs Leno move, throws NBC late night into chaos
'Tonight Show' host Conan O'Brien said Tuesday he would not move his show back 30 minutes to accommodate 'The Jay Leno Show' at 11:35 p.m., putting NBC on the spot.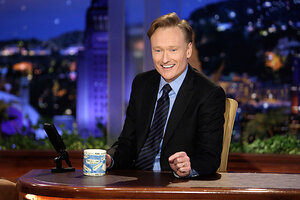 Paul Drinkwater/NBC/AP/File
Late-night talk-show host Conan O'Brien essentially told NBC Tuesday: Heck no, I won't go.
Mr. O'Brien's refusal to move his "Tonight Show" to 12:05 p.m. to accommodate Jay Leno's faltering show in the 11:35 p.m. slot is just the latest salvo in what is turning out to be a titanic struggle for NBC.
It is about what to do about plummeting ratings for "The Jay Leno Show" at 10 p.m. It is a bid to help NBC's many affiliates, whose 11 p.m. newscasts have been losing advertising dollars because of Mr. Leno's dreadful ratings. And, increasingly, it seems to be about the future of late-night television itself.
When 'The Tonight Show' isn't 'The Tonight Show'
In a 552-word statement that opens, "People of Earth," O'Brien wrote:
"For 60 years the Tonight Show has aired immediately following the late local news. I sincerely believe that delaying the Tonight Show into the next day to accommodate another comedy program will seriously damage what I consider to be the greatest franchise in the history of broadcasting."
Many industry analysts have suggested that time slot is no longer important in the DVR era, but O'Brien said moving "The Tonight Show" to the next day is tantamount to redefining the entire late-night real estate.
---
Follow Stories Like This
Get the Monitor stories you care about delivered to your inbox.