Portrait of a long life: An original social networker
Centenarian Kate Hecht's secret to long life included social networking to outmaneuver the Nazis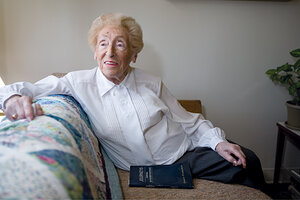 Melanie Stetson Freeman/Staff
There's a lot to remember in a century, and Kate Hecht – 101 years old – laughs apologetically when she says, "I forgot a lot of things ... over the years."
But the memories that shaped her long life, as she proves in a postlunch interview at her retirement community, remain vivid.
In her strong German accent, she recounts paying a smuggler to get her and her young son out of Nazi Germany. The daughter of a Jewish leather merchant, she left behind her comfortable life in Mannheim in 1939, fleeing first to Belgium, then France, then Switzerland. Her husband didn't make it. He was killed in Auschwitz.
Mrs. Hecht remembers, too, her harsh introduction to the United States, arriving in New York in 1946 after the war. Her wealthy relatives there mostly wanted nothing to do with her, she says. A cousin, showing off her lavish apartment, asked Hecht to look over the view of Central Park, asking, "Have you ever seen anything so beautiful?" Hecht's chin juts a bit in pride, now, as she recounts her answer: "Yes. I have seen the Black Forest."
---