Portrait of a long life: faith, friends, and a few laps
For centenarian Helen Camerota, a long life is a full life: she still cooks for crowds and drives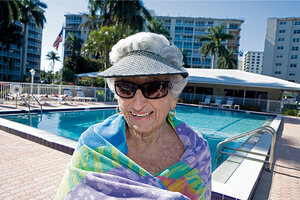 Melanie Stetson Freeman/Staff
The telephone rings in Helen Camerota's waterfront condo and the disappointing news is that Maintenance has turned off the pool heater – her swimming ritual of 20 laps is off for the day.
The good news? Mrs. Camerota, who turned 100 in February, isn't short of options for the day. She might drive to the market to pick up ingredients for meatballs, pizza, or gnocchi – after all, friends often drop by for a home-cooked Italian meal, the kind her own immigrant parents used to serve. Or she could head down to the clubhouse for a few hands of bridge or to play a card of bingo, all activities she enjoys regularly.
"I wake up every morning and the first thing I think of is going for my swim," she says. "It leaves me feeling great for the day."
But a change in her familiar routine simply doesn't throw this slightly built yet disproportionately resolute woman for a loop – she's ready for anything. Age has proved no barrier for Camerota, who until just a year or so ago would charitably drive far younger neighbors to their own doctors' appointments.
Betty Barnes, a friend for two decades, notes that Camerota helps serve food at condo coffees: "You'd think at 100 she should be the one sitting down being served. She's just a wonderful, lively, active woman who throws herself into so many activities."
---