Portrait of a long life: He's not retiring – about himself, or from his job
In Jack Borden's long life he's done everything from delivering ice to being an FBI agent – and he's not ready to quit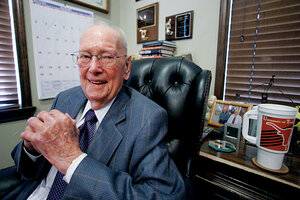 Donna McWilliam/AP/File
Jack Borden's mother thought God had intended her son to be a preacher the day she found him baptizing the family's black cat in buttermilk at the bottom of the butter churn.
But there was a little too much mischief in Jack Borden to make the church his profession. The high school dropout has worked as an ice deliveryman, a refrigerator repairman, a soda jerk, a district attorney, an FBI agent, a mayor, a radio host, and his current profession – at age 101 – a probate and real estate lawyer.
"My dad gave me a hoe at 5 years old and told me to weed the corn patch," says Mr. Borden from behind his desk, stuffed with books and plaques, candy and awards. "I've been working all my life. That's what keeps me alive."
That, and his good humor, wit, and zest for life.
"I'm one of those people who believes God has a hand in everything that happens," he says. "I'm tempted sometimes," he jokes, "to say 'Lord, I hope it takes me a long time to do what it is you're leaving me here for.' That's the human side of it."
But, he adds, "I have never been one of those people who is concerned about dying."
Indeed, this centenarian's days are too full to contemplate such things. Borden awakes at 5 a.m., eats a Texas-sized breakfast, puts on a starched shirt and suit, and can be found at his desk by 6:30. He leaves at 10:30 for lunch and a short nap, and returns to work until 4 p.m.
He has a full-time caretaker who does his cooking and cleaning and shuttles him around – except on Saturdays when he still drives himself to the dry cleaner. He does keep a walker and wheelchair for backup, but needs no hearing aids or reading glasses. And his mind is clear: He gets especially intense – slowing to a precise legal rhythm – when he talks about new ways he has found to help clients.
---