Redefining longevity: the new centenarian spirit
The US centenarian population is doubling every decade – and they're redefining aging and longevity.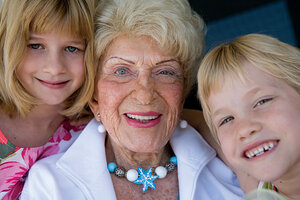 Melanie Stetson Freeman/Staff
Garnett Beckman says she'd prefer to just be known as a little old lady who walks. For a long time, she didn't tell people her age. It proved to be an impediment when she wanted to hike the Grand Canyon at age 75 – no one would take her.
"Nobody would go with me. They didn't think I could do it," recalls Ms. Beckman, now 102. "I was afraid I couldn't do it."
So she got up early, told her son she was taking a trip with friends, and hopped a bus by herself, hiking nine miles down Bright Angel Trail and overnighting at Phantom Ranch on the other side of the Colorado River. She woke up early and hiked back to catch the early bus. When her son picked her up in Phoenix, she told him where she'd been.
"He almost wrecked the car," she says.
She was just getting started. She hiked the canyon again a few weeks later, and her son came with her. She'd make the trip more than 20 times in the following decades.
Though she discontinued her Grand Canyon hikes when she was 91, Beckman still walks closer to home, sometimes to the senior center where she volunteers to "help with the old folks" and teach bridge on weekends. She's used to people asking her age, but she doesn't let it slow her down much. She runs with a younger crowd, she says: "My companions were always a generation behind me."
As a centenarian, Beckman has achieved what some demographers project most kids today will achieve: to live past 100 with mental and physical health largely intact.
---