Hitting a high note by helping high school musicians in Seattle shed limitations
Orchestra leader Marcus Tsutakawa and jazz band conductor Clarence Acox inspire music students at Seattle's Garfield High School.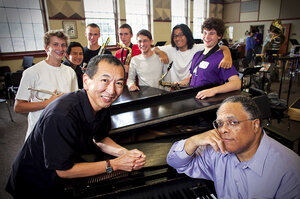 Dan DeLong/Red Box Pictures/Special to the Christian Science Monitor
You know the scene: a shabby stage crowded with eager high school musicians. A young director steps onto the podium, raises his baton, waves that first dramatic downbeat – and for the next couple of hours the audience of parents, reluctant siblings, and loyal friends endures "music" punctuated by tempos that drag, clarinets that squeak, and violin solos only a parent could love.
High school music is what it is – usually tolerable, now and then pretty good. Except in Seattle, and especially at James A. Garfield High, where it is exceptional, featuring arguably the best program in the nation among public high schools.
Ask people here why the school is so successful, and they'll give you two reasons: African-American drummer Clarence Acox, who leads the jazz ensembles, and Japanese-American bassist Marcus Tsutakawa, who conducts the orchestras.
"They set this expectation for excellence, and they know the kids can achieve it," says parent Laurie de Koch, whose son Willem plays trombone in both orchestra and jazz ensemble. "What if every educator had an expectation for the achievement of excellence in every student? It would change the world."
It certainly has changed things at Garfield. The jazz ensemble has won the prestigious Essentially Ellington competition sponsored by Jazz at Lincoln Center four times since 1999 and has toured Europe nine times.
---