New social media and the 2012 election: Waaaaay beyond Facebook 2008
Watch out, Obama: Everyone else has caught up to everything you did in 2008 – and all the tools you had then have become a lot more sophisticated.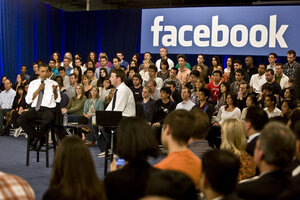 Terry Schmitt/UPI/Newscom
President Obama's town hall meeting from Facebook's California headquarters on Wednesday is a giant reminder of the role social media played in his first national campaign. He was the undeniable king of digital outreach back in 2008, but much has changed since then. For starters, the Republicans have had four years to catch up on all those nifty tools, from Twitter to texting. For another, those years – enough for a freshman to finish college – are a lifetime in the world of social media innovation.
So, as the 2012 election heaves into view, just what are the new tricks and tips in the political digisphere toolkit?
"We will see many of the same tools President Obama used in 2008, with many more refinements," says Anna Ruth Williams, Senior Account Manager at Communications 21, a social media strategy firm in Atlanta. The biggest shift, she says, is the central importance of mobile communications – as in, cell phones, smartphones, and iPads. "We saw the first generation of mobile applications in 2008 and 2010," she adds, "but in 2012 we will see far more sophisticated uses."
Mobile gadgets, data mining, and location, location, location
The biggest leaps in the social media landscape since the 2008 presidential cycle probably center around harnessing mobile gadgets, location-based services, and data-mining for behavior-targeted marketing, says Brooklyn Law School media expert, Jonathan Askin.
---