Immigration and assimilation: Finding a cultural foothold ... in a gang
Alex Sanchez, an undocumented Salvadoran who couldn't find stability in the mainstream as a youth, found unity in a gang. After a long struggle, he has become an internationally known peacemaker and gang interventionist.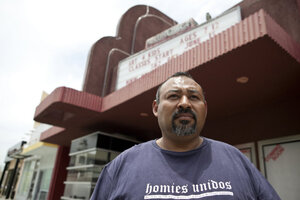 Erin Siegal McIntyre / Special to the Christian Science Monitor
In 1979, at age 7, Alex Sanchez and his younger brother left El Salvador. They didn't want to immigrate to the United States, but they had no choice. Five years earlier, their parents had made the journey north. The young brothers had spent most of their lives believing that their neighbors, who acted as temporary caretakers, were family.
"It was a hard transition to come into the United States to meet these new people," Mr. Sanchez explains. "We'd been calling someone else Mom and Dad in El Salvador."
And once the family was reunited in Los Angeles, the children's situation got even more difficult. Sanchez's parents fought. "We started getting beat for things like not calling our dad 'Dad,' " he says. His father often left the family, and his mother sank deeply into religion.
At school, Sanchez was ridiculed for not speaking English, and the other Spanish-speaking Latino kids derided his Salvadoran slang. "There was really nothing to help us to integrate into society," he says, describing what experts call "downward assimilation," integrating culturally but not into the mainstream culture. "It was difficult for us to understand what was happening. We just knew that we hated this country, that we hated our parents. We hated everybody and everything around us. There was no American dream. And in some ways, it became an American nightmare."
The family moved to South Central L.A., then Koreatown. Finally, at a new school, Sanchez found a group of other immigrant children whose experiences mirrored his own – including being humiliated and bullied. Among his new clique, Sanchez found the sense of love and belonging that had eluded him since moving to the States.
"Instead of responding individually to harassment, they responded with unity," he says. "And eventually, this became known as the Mara Salvatrucha, MS-13."
---