Immigration and assimilation: Soccer and prom are part of her American-ness
Brenda Calderon, whose Guatemalan family was finally reunited with their father in North Carolina when she was 7, measures her American-ness in proms, soccer, and sleepovers – things she couldn't do back home but discovered here.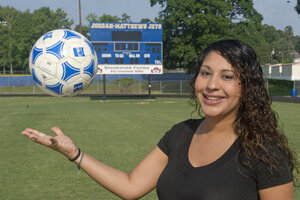 Alfredo Sosa / Christian Science Monitor
When Brenda Calderon arrived in this small town in 1996, there were hardly any other Latinos around. Her family was at the beginning of a wave of immigration to the United States from Mexico and Central America that would eventually transform the town, state, and much of the Southeast.
Ms. Calderon was 7 at the time. Her family came from the coast of Guatemala, where they lived in a two-bedroom house with a corrugated tin roof. She remembers a place that was dusty and humid, with hungry dogs and trash in the streets, and chaotic traffic with no stoplights or stop signs. In North Carolina, everything seemed newer and cleaner; even the walls looked whiter. But at the time, very few people spoke Spanish.
To Calderon, being an American meant finally being part of a unified family. Her father had left Guatemala to work – without papers – on farms in Texas in 1988, the year she was born.
"[E]very time he would go home for Christmas, I remember me and my sister would hide under the bed ... scared to talk to him." Calderon says. "So my mom was like, 'Either he comes home or we go with him, because we want to be a family again.' "
After several tries, her dad secured permanent legal residency in the US for the whole family, and they settled here, where one of Calderon's uncles lived and jobs were plentiful. Her mother told her the move would offer them a better life. And Calderon discovered it was true.
Still, the adjustment was hard. She admits she cried every night her first three months here. There were only one or two other Latina girls in Calderon's class. She didn't even know enough English to ask the school-bus driver where to get off.
Her challenges might have been smaller if her family had moved to a place where there was an established Hispanic population, like the Southwest.
Over time, things got easier: To Calderon, assimilation means getting used to unfamiliar things and people, a different culture and language. By any standard, she has done that. She learned English and became a star student and athlete, obtained US citizenship, and became the first person in her family to graduate from college, getting a BA in exercise and sports science from the University of North Carolina at Chapel Hill. In 2012, she married a US Marine and is now pregnant with their first child.
---