Cam Newton: Why Cam could lose the Heisman Trophy
Cam Newton, the Auburn quarterback, is currently leading the field of candidates for this year's Heisman Trophy. But will the alleged actions of his father keep the Heisman out of Cam Newton's hands?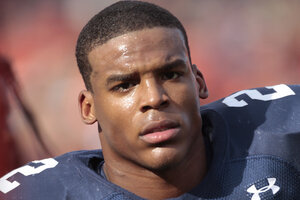 Dave Martin, File/AP Photo
Auburn quarterback Cam Newton has led the Tigers to an undefeated season so far in 2010.
Newton's on-field exploits, especially running the football, have placed him at the top of this year's Heisman Trophy contenders. He is the only quarterback in the NCAA's Football Bowl Subdivision to rush for more than 1,000 yards and has more than 2,000 passing yards so far this season.
But allegations of a pay-for-play scheme to Newton's father, while Cam was being recruited out of junior college, have given some Heisman voters pause. The voters are sports writers and former Heisman winners.
Reports began circulating a few weeks ago that Cecil Newton contacted Kenny Rogers, a former Mississippi State player, about receiving thousands of dollars to make sure his son signed with the Bulldogs after leaving Blinn Junior College in Texas.
Rogers proceeded to contact Mississippi State football boosters about getting the cash Cecil Newton was looking for. As it turned out, Cam Newton signed to play at Auburn.
---