NCAA tournament bracket predictions: For some teams, a second chance
The NCAA men's basketball tournament gives teams that haven't been playing well – Purdue, Villanova, Georgetown – a second chance to fulfill some of the bracket predictions going into the NCAA tournament.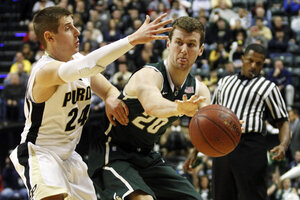 Brent Smith/Reuters
At the end of the regular season, Purdue's basketball team was firing on all cylinders. Even without injured star forward Robbie Hummel, the team climbed its way to an impressive record that boasted a seven-game Big Ten win streak nearing its regular season finale.
But when the Boilermakers had a shot at a shared Big Ten title, a hardworking Iowa team handed Purdue a loss. Fast forward one week to the Big Ten Tournament, and, once again, the Boilermakers were embarrassed by a decisive Michigan State victory in the quarterfinals, their first game.
Å pre-Dance slump in conference tournaments and late-season play isn't only a problem for the Boilermakers. Even the Big East, the NCAA tournament's most prominent conference with 11 teams, is having its share of misfires.
Among those teams, Villanova and Georgetown lead the pack. The Villanova Wildcats posted a list of Big East wins in January but have recently taken a turn for the worse. Villanova's team is on a five-game losing streak entering NCAAs as a No. 9 seed, not exactly the momentum of choice.
Likewise, the Hoyas also have a host of losses marking their schedule as a precursor to the tournament. Four straight drops for Georgetown, including a recent loss to UConn in the Big East Tournament, makes the need for a turnaround a necessity.
---