Barry Bonds verdict: A conviction likely to satisfy no one
Following a 12-day trial and four days of deliberation, the jury in the trial of baseball star Barry Bonds convicted him of obstruction of justice for lying to a grand jury in 2003 about steroid use.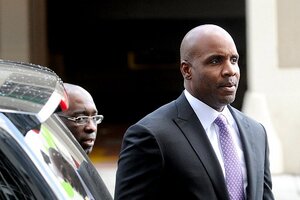 Noah Berger/AP
The outcome of baseball star Barry Bonds's federal trial isn't likely to satisfy anyone – those working to end the use of performance-enhancing drugs in professional sports or those who see the proceedings as an unnecessary prosecutorial vendetta.
Wednesday afternoon, a federal jury in San Francisco found Bonds guilty of obstruction of justice related to allegations that he had used performance-enhancing drugs. But a mistrial was declared on three counts of perjury.
Bonds's attorneys are likely to appeal the single conviction as prosecutors determine whether to seek a retrial on the perjury charges.
The essence of the case against Bonds, the record-holder for home runs in a career (762) and in a season (73), is that he lied to a grand jury in 2003 regarding the use of anabolic steroids and the fact that he'd gotten injections from someone other than his doctors.
One of those who testified against him was Kimberly Bell, his former girlfriend, who said Bonds told her in 1999 or 2000 that he was using steroids. During that period, she said, he became "increasingly aggressive, irritable, agitated, very impatient" – behavior often associated with the use of steroids.
Other witnesses noted that Bonds's physical appearance changed notably as he gained some 50 pounds, the once-wiry ballplayer becoming a bulked up slugger.
---