NBA playoffs: Grizzlies look to claw past Spurs to reach Round 2
NBA playoffs: The Memphis Grizzlies visit the San Antonio Spurs tonight for Game 5 of their best-of-seven NBA Western Conference playoff series.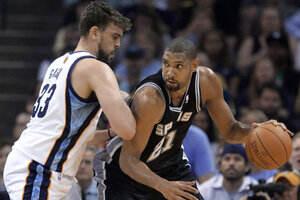 Mark Humphrey/AP
The Memphis Grizzlies are looking to avenge their four-game playoff sweep in 2004 at the hands of the San Antonio Spurs by winning Game 5 tonight at San Antonio's AT&T Center.
San Antonio is a veteran squad, with their starting five combining for 52 years of NBA experience. As for the Grizzlies, they've never played a playoff game in May. So, conventional wisdom would have predicted a quick exit for Memphis.
But, in this series, Memphis has put on a clinic in quickness and opportunism. The Grizzlies led the NBA in turnovers forced per game (16.5) and steals (9.4). And, in Monday's contest, Memphis scored 20 points off 17 turnovers, while stealing the ball 8 times.
Though San Antonio has held the advantage in the paint, Memphis has scored exceptionally well from the three-point line (42% in Monday's game), and, as a team, made over 80% of their free-throws - which can be invaluable in the stretch when you get 21 shots from the line. The Grizzlies' field goal percentage was also over 50%, which also bested the Spurs.
---