NBA playoffs: Celtics will feel the Heat in Game 3
NBA playoffs are heating up. The Boston Celtics return home to face the Miami Heat in Game 3 of their best-of-seven, second-round NBA playoff series. Tip off is Saturday at 8 PM Eastern time.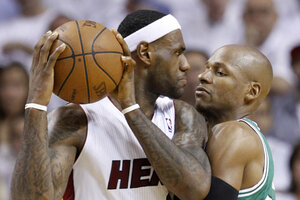 Alan Diaz/AP
As was destined to be the case, the polite and respectful words that preceded this second-round NBA playoff series between the Miami Heat and Boston Celtics have evaporated like an ice cube on a hot July sidewalk.
A very physical and emotional Game 1 in Miami saw a number of hard fouls on both sides and ultimately the ejection of Celtics' forward Paul Pierce – following his second technical foul – in a mid-fourth-quarter altercation with Miami's Dwyane Wade. In response, a sea of Heat fans in white, red and black t-shirts roared with approval and Boston never threatened for the rest of the game.
In the second game, Miami's trio of LeBron James, Dwyane Wade and Chris Bosh combined for 80 points and exploited mediocre performances by Boston's "Big Three": Paul Pierce, Kevin Garnett and Ray Allen, who could only tally 36 as a group.
And even though Boston managed to get five players in double-figures - with Rajon Rondo scoring a team-high 20 points, along with 12 assists – Miami's starters have far outhustled Boston's marquee players on both sides of the ball. As a result, Boston now owns a 0-2 record for this playoff round, which they have not encountered since their trio of Pierce, Garnett and Allen were introduced on Causeway Street prior to the 2007-2008 season.
---