NBA playoffs: Thunder defeat Grizzlies in triple-overtime thriller
NBA playoffs: The Oklahoma City Thunder, in the first triple-overtime NBA playoff game since a 2009 Celtics-Bulls contest, defeated the Memphis Grizzlies Monday night at Fedex Forum. Their second-round series is now knotted at two games apiece.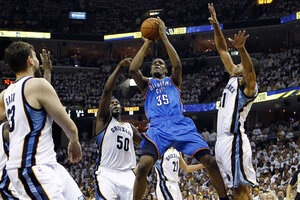 Mark Weber/Reuters
Monday night's Game 4 between the Oklahoma City Thunder and the Memphis Grizzlies was reminiscent of Game 5 in the the 1976 NBA Finals between the Boston Celtics and the Phoenix Suns, known variously as "The Longest Day" and "The Greatest Game" in NBA annals – taking three heart-pounding overtime periods to complete.
To most fans, that classic match-up appeared seemingly out of the blue, but has since entered the collective consciousness of NBA fans worldwide. When the Thunder-Grizzlies encounter entered its third overtime session, you could sense a similar atmosphere in Fedex Forum.
In the end, the Thunder fought back from the brink, weathering two Memphis three-pointers – by guard Mike Conley at the end of regulation and rookie guard Greivis Vasquez with ten seconds left in the first overtime period – to gut out a critical 133-123 win. But the outcome of the game seemed almost incidental to the remarkable performances it featured.
---