Amid more doping allegations and probes, Lance Armstrong battles back
Lance Armstrong, seven-time Tour de France champion, faces new allegations from a teammate that he failed a 2001 drug test, and a grand jury probe. He has long said, 'Where's the proof?'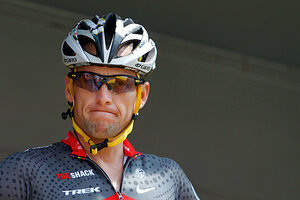 Christophe Ena/AP/File
When he was in the Tour de France, Lance Armstrong was known for his incredible ability to get his bicycle up steep hills before most other riders.
Now, Armstrong faces another steep challenge: an onslaught of allegations by some past colleagues that he used performance-enhancing drugs to win the grueling race. Just to make the challenge even more difficult, a federal grand jury in Los Angeles has been investigating to see if any fraud was committed.
"It's a whole series of concentric circles, and it certainly seems like the circles are closing in on Lance," says Patrick Rishe, an economist at Webster University and director of Sportsimpacts, a sports research firm. "With all these people coming forward, you just have to wonder."
The latest problem for Armstrong came Sunday, when CBS's "60 Minutes" aired an interview with Tyler Hamilton, a former Armstrong colleague on the United States Postal Service team who helped the Texan win the Tour an unprecedented seven times.
Hamilton claimed that Armstrong had failed a drug test in 2001 while competing in the Tour de Suisse, a race leading up to the Tour de France. But Armstrong was not worried about the failed test, claiming that the International Cycling Union (UCI) made the negative results go away, Hamilton said.
---