Steeler James Harrison suspended: Is he a throwback or a relic?
Pittsburgh Steeler linebacker James Harrison is the biggest repeat offender under the NFL's new player-safety rules and says he won't change the way he plays. But clearly, the NFL has changed.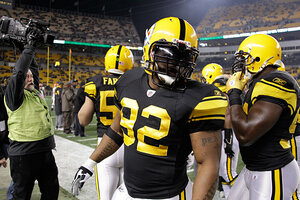 Gene J. Puskar/AP
Pittsburgh Steelers linebacker James Harrison, it seems, is either a throwback or a relic.
Last Thursday, Harrison clocked Cleveland Browns quarterback Colt McCoy with a helmet-to-helmet collision that, in the not-too-distant past, might have been lauded as good, hard-hitting football.
On Tuesday, however, the National Football League gave Harrison a one-game suspension for that hit – the first suspension under new rules aimed at protecting players from "devastating" hits.
Harrison responded by planning an appeal and laughing off the suspension. "Lol!" he tweeted, later telling a reporter: "If I would have really hit him, I would have close to knocked him out."
Some former players offered support, with Deion Sanders, now a commentator for NFL Network, saying: "C'mon guys, this is football."
But the suspension is further evidence that the NFL has turned a corner and is now siding more with medical professionals than with the game's gritty past.
"This is consistent with the new, low-tolerance policy of the NFL alongside the growing research showing the long-term effects of concussions," says Dave Czesniuk, director of operations for Sport in Society at Northeastern University in Boston.
The NFL's official statement noted that Harrison has been the league's biggest repeat offender. "In addition to four fines for illegal hits against quarterbacks in 2009 and 2010, Harrison also was fined twice for unnecessary roughness during that period. Harrison totaled six fines in that two-year period."
---