Now that the Super Bowl's over, a letter to NFL commissioner Roger Goodell
A veteran Monitor observer of the sports scene offers his two cents worth on the NFL's ultimate contest in a missive to the commissioner.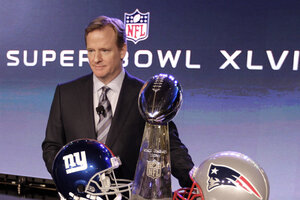 David J. Phillip/AP
Dear Commissioner Goodell,
Congratulations on another entertaining season, capped by last Sunday's Super Bowl. Surely you were pleased to learn the game had attracted the largest US television in history for a third consecutive year. It's hard to argue with that kind of success, but since fan feedback can be important to any league's continuing popularity, here are two thoughts for the NFL's consideration:
1. While the last minutes of Super Bowl XLVI were plenty exciting, the ending nearly backfired with potentially embarrassing consequences, or so it seems to this observer.
The circumstances surrounding the New York Giants' winning touchdown run encouraged both the Giants and the New England Patriot defenders to basically quit playing. Everything came out in the wash, partly because of Ahmad Bradshaw's inability to stop completely enough to keep from falling into the end zone for the go-ahead TD. But if he had stopped short of the goal line, an even stranger scenario could have played out in which the Patriots would have again invited the Giants into the end zone by standing aside or feigning any genuine defensive effort. Surely, that's not how the league's championship game should end.
---