NHL lockout over, but why did it take so long?
Labor agreements tend to be about protecting the little guy, but the NHL's chronic labor troubles spring from owners' inability to save themselves from themselves.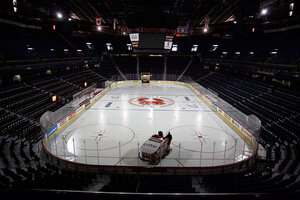 Jeff McIntosh/The Canadian Press/AP
Even as Zambonis across the United States and Canada are being dusted off for a shortened professional hockey season, the question remains: What took so long?
When the National Hockey League and its Players' Association produced a new labor deal early Sunday, following a 16-hour negotiating session in New York City, the lockout had taken 113 days and claimed nearly half the 2012-13 season. This after lockouts consumed the entire 2004-05 season and part of the 1994-95 season. Surely, there must have been a good reason?
Analysts tracking the stalemate say it was relatively simple, and it points to a chronic problem made worse by the NHL's ill-advised expansion in the 1990s: Many of hockey's owners are repeatedly drawn into spending more money than they have in a bid to be competitive, meaning the once-a-decade labor negotiations become a desperate attempt to persuade players to help save the owners from themselves.
This time, one of the core disagreements was about a new breed of absurd contracts that owners sanctioned to get around their own salary cap. Take the New Jersey Devils' Ilya Kovalchuk, who in 2010 signed a 15-year, $100 million deal that would have him playing until he is 42.
The idea was to spread a player's salary over a huge span of time so the average annual salary – which is what is counted against the cap – can be relatively low, even as teams front-load the contracts to give players the majority of the money in their prime.
---