FEMA denies disaster funds for West, Texas. Is that unusual?
(Read article summary)
West needs the disaster funds, say local and state politicians, but FEMA has turned down requests for non-natural disaster aid before. The decision is a new flash point between Texas and the Obama administration.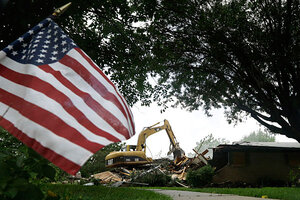 Tony Gutierrez/AP
The Federal Emergency Management Agency refused a request for aid by West, Texas, to replace infrastructure destroyed in a deadly fertilizer plant explosion, in a move that drew criticism from Texas officials.
Texas Gov. Rick Perry's office on Wednesday said FEMA rejected the request for more aid in a June 10 letter.
According to the letter, obtained by The Associated Press, FEMA said it reviewed the state's appeal to help but decided that the explosion "is not of the severity and magnitude that warrants a major disaster declaration."
FEMA said the agency and the US Small Business Administration have approved more than $7 million in aid and low-interest loans to West residents impacted by the blast, which killed 15 people. FEMA also is paying 75 percent of the costs of debris removal and will reimburse the state and the municipality for the initial emergency response.
While the ruling means that residents won't get as much assistance as is typically given to victims of tornadoes, hurricanes, and other natural disasters, it isn't unprecedented. FEMA has turned down that level of assistance for emergencies not stemming from natural disasters before, such as in 2010 when officials denied a request for millions in aid after a gas pipeline explosion in northern California.
Texas lawmakers aren't happy with FEMA's decision and several pledged to try and overturn it.
---