On anniversary of Saddam's fall, Iraqi protesters vent against US
Tens of thousands of Sadr's Shiite supporters expressed solidarity with Iraqi security forces while demanding an end to the US occupation.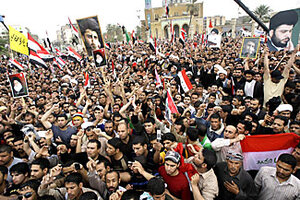 Karim Kadim
Tens of thousands of Iraqis crowded into the square Thursday where Saddam Hussein's statue was toppled, along with his regime, six years ago. Waving posters of Shiite leader Moqtada al-Sadr and demanding that President Obama fulfill his promise to withdraw US troops, their presence underscored the eagerness of many Iraqis to see the US leave – but also their apprehension about what comes next, especially after a week of bombings that have marred months of relative calm.
The demonstrators in Firdos Square were mostly young men, jubilant despite the pouring rain. Halfway up the decaying green concrete sculpture that replaced the towering image of Saddam Hussein, high school student Karar Abdul Hussein, himself symbolic of the new Iraq, clambered up to get a better view and wave an Iraqi flag.
"We were so happy when they brought down the statue, but now we want the occupation to end. The Americans are very tough against the Iraqis," he says after being persuaded to climb back down and talk.
Despite the recent bomb attacks, security has improved dramatically since Iraq pulled back from all-out civil war two years ago. For most people, a lack of jobs and essential services, including water and electricity, are now their main concerns. The drop in oil revenue has prompted major budget cuts by the Iraqi government, and long-overdue laws to share oil revenue and power have been stalled by political power struggles and a dead-locked Parliament.
---
Follow Stories Like This
Get the Monitor stories you care about delivered to your inbox.