In war for Afghanistan, US troops do battle with flaky contractors
US forces in Afghanistan had begun to look like ATM machines as massive, poorly managed development projects bled money. Soldiers now oversee smaller ventures, even if it means personally counting pipes and demanding toilet flushers.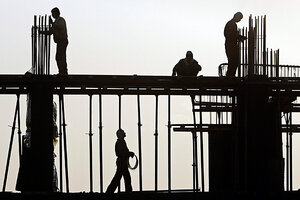 Omar Sobhani/Reuters
"Yeah, but what about the flushers?"
Lt. Mark Zambarda was annoyed. He expected small hoses to come with the toilets that had been ordered for the newly remodeled school. But the Afghan laborers simply smiled and made vague gestures with their cement-caked trowels.
"I'm not paying you until I get some flushers," Zambarda said.
The young soldier grinned, but it was tired, tight. This was a difficult part of the job – even more difficult sometimes than combat. When he joined the Army, Zambarda never thought he'd become a building inspector.
But that is part of the mission for American soldiers here in the Pech Valley and across Afghanistan, where the United States has long encouraged development but is now also pushing Afghans to shoulder more responsibility for their own fate. President Barack Obama stressed this message when he outlined his war strategy last month. It's even more pressing as international leaders opened a conference in London Thursday to discuss the future of Afghanistan.
Earlier American programs tended to dump cash on large projects, military officers here say. Big things were built – schools and medical clinics, for example – but the costs were so large and the contracts so complicated they were difficult to monitor. And they invited corruption. Soldiers said the process had led some Afghans to think of Americans as "ATM machines."
---
Follow Stories Like This
Get the Monitor stories you care about delivered to your inbox.