Suicide bombs before Iraq election shows Al Qaeda still active
Suicide bombs in Baghdad killed at least 7 people on Thursday, creating worries about security for the Iraq election and the ongoing activities of Al Qaeda in and around Baghdad.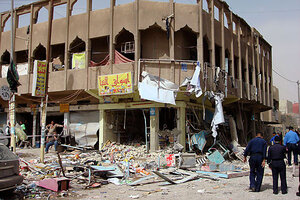 Thaier al-Sudani/Reuters
As early voting begins for the Iraqi election this weekend, tribal sheikhs say Al Qaeda in Iraq (AQI) is alive and well on the outskirts of Baghdad – a belt of communities crucial to the capital's security. While attacks have declined dramatically over the past two years across Iraq, in areas such as Abu Ghraib political attacks have added to the lethal mix of Al Qaeda intimidation and violent crime in the run-up to Sunday's national election.
"We can't go to the Abu Ghraib hospital or go to the market. At night the men stay up with rifles protecting their houses and their families," says Sheikh Hakem al-Jabouri, who says members of his Shiite tribe drive into Shiite areas of Baghdad to do their shopping and haven't been to the Abu Ghraib hospital for four years because the area is controlled by Al Qaeda. "We would be killed there," he says.
On Thursday morning, suicide bombers hit two early polling places in Baghdad and killed at least seven people. Early voting is for soldiers, police, and others who may not be able to get to the polls on election day. That followed a larger attack on Wednesday in the northern city of Baquba, where suicide bombers killed more than 33 people and wounded 50 in attacks on police targets and a hospital.
---