State of the world: Global gender gap narrows
Part 5 of the surprisingly upbeat state of the world: Women's lot rises as the gender gap narrows worldwide.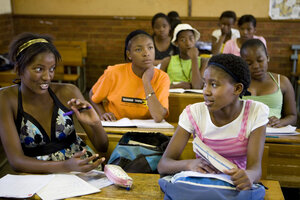 Melanie Stetson Freeman/The Christian Science Monitor
Ten years ago, life was still hard for the women of Ijuhanyondo village in Tanzania.
"Women were very behind. They used to be only at home doing housework," a resident named Baruani told a World Bank researcher this year.
But much has changed in the intervening decade. Many Ijuhanyondo women now run their own business and have cash for themselves. In the old days men did not allow women to participate in politics; now females make up half the members of the street committee that runs the village.
Things are far from perfect – most Ijuhanyondo homes do not have piped-in water. Men still get drunk and beat their wives. Parents still favor sons when it comes to passing along family possessions.
Overall, though, said a villager named Ag­netha, "we do not depend on men as it used to be."
As goes Ijuhanyondo, perhaps so goes the evolution of gender equality across the world. Things have changed for the better, particularly in developing nations, at a pace that would have been unthinkable as recently as the 1970s, according to a 2012 World Bank report on the subject.
---