State of the world: U.N. poverty-reduction goals on track
Part 4 of the surprisingly upbeat state of the world: U.N. global poverty-reduction goals are met.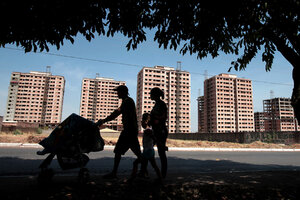 Eraldo Peres/AP
Eleven years ago, at the Millennium Summit at United Nations headquarters in New York, the leaders of the world agreed to a plan meant to spur efforts to help the globe's poorest.
This blueprint involved a series of benchmarks – Millennium Development Goals – to measure the progress of developing nations on poverty, hunger, primary education, and so forth. The point was to rally international efforts to try to bring a better life to those who most needed it by 2015.
Well, 2015 is rapidly looming into view, insofar as development is concerned. And right now it looks as if most of the nations involved are going to reach most of the objectives.
Related: New US poverty formula
"Two-thirds of developing countries are on track or close to meeting the Millennium Development Goals," begins the World Bank's "Global Monitoring Report 2011."
The world will easily meet the overall goal on poverty, for instance, if indeed the number of people living on less than $1.25 per day falls to the expected 883 million in 2015.
---