How Syria's Assad plans to survive
Despite promises of a referendum next week on a new constitution, Syrian President Bashar al-Assad's regime seems to have made a clear decision to base its survival on repression.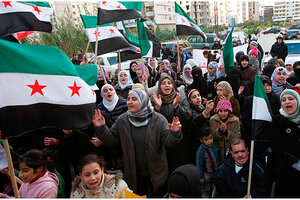 Omar Ibrahim/Reuters
Syrian President Bashar al-Assad's unrelenting military offensive against rebel-held areas suggests that his regime is basing its survival on repression rather than reform, despite his promise of a referendum next week on a new constitution that could reshape domestic politics, say analysts.
"Assad has nowhere to go but forward, the military solution is his only option," says Bilal Saab, a Middle East security expert at the Monterey Institute of International Studies in California. "He may not survive at the end of the day, but he is surely not going down without a fight."
Syria is undergoing its worst period of violence since the uprising began 11 months ago. The rebel stronghold of Homs, Syria's third-largest city, and other towns in the northern Idlib province, near Damascus, and in the south have suffered tank and mortar bombardments.
Casualty figures have soared, on occasion reportedly reaching more than 100 in a single day. The attacks and ambushes waged by the various ad hoc battalions that comprise the rebel Free Syrian Army (FSA) are shaping the narrative of the opposition struggle, overshadowing peaceful protest marches, and marginalizing to some extent the external political opposition groups.
The timing of the regime's intensified crackdown coincides with a diplomatic impasse following the recent failure of the United Nations Security Council to agree on a resolution condemning the violence in Syria. The resolution, which won 13 of the 15 Security Council votes, was vetoed by Russia and China.
---