New world requires new strategies
Democracy and digitalization make urgent demands. How, and how fast, can the US adjust?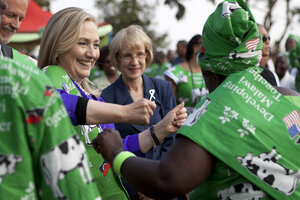 Jacquelyn Martin/AP
When Syria was hit by the tide of change sweeping across the Middle East in the spring of 2011, US Ambassador Robert Ford left behind the comfort and isolation of his Damascus embassy office and took to the streets.
He stood with the Syrians demanding change from their authoritarian leader and delivered a message of American support. He used the Internet to connect with groups he could not physically reach. Even after the revolution turned violent and Ambassador Ford was called home, he turned to Facebook to inform the Syrian military that the United States and indeed the whole world were watching, and that those committing crimes against humanity would be held accountable.
Ford was practicing a new diplomacy his forebears of just a decade or two ago would have hardly recognized, a kind of international statecraft that Secretary of State Hillary Rodham Clinton likes to say will be practiced "as much in work boots as in wingtips."
It's the kind of diplomacy the US must practice more, experts say, if it is to further its interests and spread what it considers to be universal values in a world of expanding democracy and a diffusion of power beyond governments to communities and organizations. But it is also a problematic and even risky form of engagement, as recent anti-American violence across the new democracies of the Middle East suggests.
---