Kenya talks focus on easing violence
The country's two political rivals agreed to help ease distribution of humanitarian aid, but not to a power-sharing government.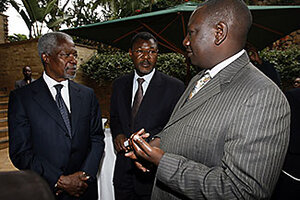 Zohra Bensemra/Reuters
JOHANNESBURG, South Africa; AND NAIROBI, Kenya
Since his arrival in Kenya on Jan. 22, former United Nations Secretary-General Kofi Annan has deftly given the impression of steady success in mediating between Kenya's two main rivals, President Mwai Kibaki and opposition leader Raila Odinga.
But in talks this week, President Kibaki's Party of National Unity (PNU) apparently rejected a transitional government that would share power with Mr. Odinga's Orange Democratic Movement (ODM), according to an ODM source with knowledge of the ongoing discussions.
Few details of the talks have emerged. The emphasis still appears to be on preventing the violence and breaking the leaders away from their intransigence, rather than the makeup of any kind of power-sharing government. Kibaki still claims he won the disputed Dec. 27 vote, while Odinga maintains that Kibaki stole the election at the last minute.
ODM negotiators are insisting that the disputed elections be re-run and a transitional government be set up in the meantime. Kibaki's team says that is a nonstarter. The only agreement so far is that the discredited Electoral Commission of Kenya be disbanded.
---