Hutu rebels in Congo strike back against joint offensive
FDLR militia targets civilians, aid workers, and officials who supported the Congo-Rwanda effort.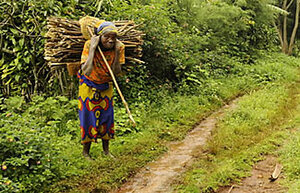 Mary Knox Merrill/The Christian Science Monitor
Goma, Democratic Republic of Congo
A new rebel push in Congo's wild, wild east is threatening to mar recent progress toward peace and plunge one of the world's most war-ravaged regions into a fresh humanitarian crisis.
From Jan. 21 until late February, the Congolese Army joined neighboring Rwanda in a surprise offensive against the Democratic Forces for the Liberation of Rwanda (FDLR), a Hutu militia suspected of committing the 1994 genocide in Rwanda and wreaking havoc in the mineral-rich mountains of eastern Congo ever since.
The joint operation – a rare instance of cooperation between two neighbors with a history of animosity – is credited with flushing out hundreds of FDLR militiamen for re-integration into Rwanda, something widely viewed as key to ending the conflict that has killed more than five million people in the past decade.
United Nations Secretary-General Ban Ki Moon heralded the operation during a visit to eastern Congo earlier this month.
But now the Hutu rebels are retaking many of their positions and carrying out reprisal attacks on civilians suspected of cooperating with the joint offensive.
In the past two weeks, 35,000 people have been forced to flee their homes by the FDLR, says David Nthengwe, the spokesman for the UN High Commissioner for Refugees in eastern Congo. More than 160,000 civilians have been displaced since January.
---