Western Sahara clashes threaten UN talks between Morocco, separatists
Violence on the North Africa coast comes as Morocco and the pro-independence Polisario Front begin informal talks at the United Nations in New York over the disputed Western Sahara.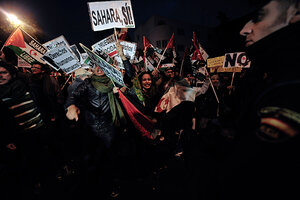 Alvaro Barrientos/AP
Deadly clashes continued for a second day Tuesday in Western Sahara as Moroccan troops tried suppressing antigovernment protests waged by the indigenous Sahrawi population.
It is the worst violence since the Moroccan government first occupied the Western Saharan territory 35 years ago, and started only hours before Moroccan officials started a new round of informal talks at the United Nations in New York with the pro-independence Polisario Front, which claims the disputed territory as a homeland under the name of the Sahrawi Arab Democratic Republic. It has an exiled government in Algeria, its patron.
Moroccan authorities say four policemen and one firefighter were killed by rioting protestors in the past two days, with only one civilian casualty. Meanwhile, the Polisario Front said 11 civilians have been killed, 723 have been injured, and 159 are unaccounted for.
Analysts say that Moroccan authorities provoked the clashes to derail talks that began on the same day in New York.
---