How Qaddafi helped fuel fury toward Africans in Libya
During the past few weeks of uprising in Libya, hundreds of African migrant workers have been detained, beaten, or harassed by Libyans due to reports that African mercenaries are fighting for Muammar Qaddafi.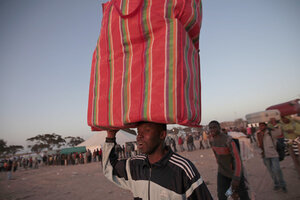 Lefteris Pitarakis/AP
As Libya erupts into civil war, migrant laborers from sub-Saharan Africa are coming under increasing threat of mob violence due to reports that African mercenaries are helping Muammar Qaddafi brutally quash a nation-wide uprising against his 41-year rule.
Many of the estimated 2.5 million migrant workers in Libya before the uprising are from sub-Saharan Africa, and unlike workers from the West – or from countries such as Turkey, China, and South Korea – Africans have had a hard time making it out of the country.
Few have the institutional support of their countries, many lack the money needed for the expensive journey home, and thousands remain too scared to try to make their way out of the country for fear of being beaten or killed by rebel mobs flush with animosity for anyone with dark skin and African features.
Many experts – and African migrant workers themselves – say the animosity stems from anti-African racism found throughout the Arab world. But some say the anger has been made much worse by Mr. Qaddafi's moves to buy the loyalty of black Libyans from the south of the country as well as his decades-long efforts to build Africa-wide patronage networks at great cost to the country's Arab majority.
---