South Africa strikes continue with schools, hospitals shut
(Read article summary)
An ongoing national South Africa strike by government workers was calmer on Friday, after violent protests flared earlier in the week. Many schools remain closed and some hospitals are turning patients away.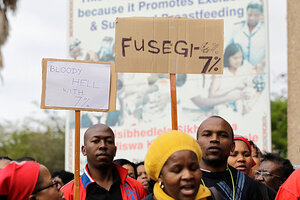 Rogan Ward/Reuters
Soldiers and the South African Police Service (SAPS) on Friday increased their visibility in Johannesburg's main trouble areas following violent labor protests that left dozens of people injured and property worth thousands of dollars reportedly destroyed.
The ruling African National Congress and labor unions have condemned the violence, which comes amid a national public workers strike that has shut down schools and seen patients turned away from hospitals across the country.
Today there were peaceful strike marches across Johannesburg's Main Street and Commissioner Street, leading to the Library Gardens, where government workers later converged. The demonstrators were escorted by both police and members of the Johannesburg Metropolitan Police Service to ensure peace prevailed.
The huge march blocked traffic for more than two hours.
Gauteng Provincial Police spokesman Brigadier Govindsamy Mariemuthoo told the Monitor the heavy police presence was aimed at dealing with and deterring rowdy elements.
"We are monitoring the strike with keen interest. Police details will not allow members of the public, particularly the protesters, to take the law into their own hands by intimidating and harassing innocent people.
---