Striking South African workers are returning to the negotiating table
(Read article summary)
South African workers, who launched a three-week strike over wage disputes with the government, are set to resume talks with the government Monday.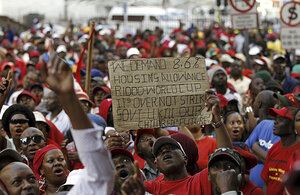 Siphiwe Sibeko/Reuters
Weeks after wage negotiations were shelved, South African public sector unions who helped to bring the country to a 21-day standstill last month will reconvene talks with the government next Monday on whether to accept the government's latest wage offers.
Public sector unions under the Congress of South African Trades Union (COSATU) are demanding an 8.6 percent wage increase and monthly housing allowance of R1 000 (about $170) while the government insists on a 7.5 percent wage hike and R800 (about $110) monthly housing allowance. Both offers are technically more than the government has to offer, and will require the government to either raise taxes or take on more debt.
Starting Aug. 18, the unions embarked on a crippling 21-day strike with nurses, teachers, immigration officers, Home Affairs and clerks, shutting down hospitals, schools, passport offices, and generally bringing public services to a standstill. Court injunctions prevented police unions from joining the strike.
Besides creating emergency situations in public hospitals – where volunteers risked physical assault from union members to care for and feed the thousands of patients, including recently born infants – the public service strikes also took some of the shine off of South Africa's global image after this year's successful World Cup. But just a year before the ruling African National Congress holds its next elections for leadership positions, this was seen as the labor movement's best chance of pushing the issues of working class South Africans to the top of the ANC's agenda.
---