In Nairobi's nightlife, 'there's no time to stop'
(Read article summary)
Two Nairobi hip-hop artists describe the Nairobi nightlife, which offers a party every night of the week.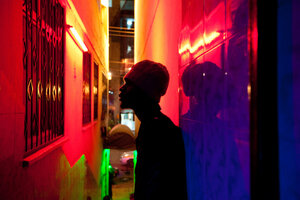 Brendan Bannon
Westlands, Nairobi, Kenya
This post is part of the Daily Dispatches project chronicling life in Nairobi, Kenya throughout the month of April.
Nairobi's character changes after the sun's gone down. P.O.P and Richie Rich, hip-hop musicians with the city's Ukoo Flani collective, tell Mike Pflanz how past midnight is not as you might imagine.
It's way into tomorrow already, and the DJ at the Skylux club, on the 3rd floor of a nondescript office block, has packed the dance floor.
It filled up late – the Barcelona versus Real Madrid soccer game kept most of the partygoers in the pub longer than usual. But now the beats deepen, and the dance floor darkens.
RICHIE RICH: Something new's coming to Nairobi in the last five years. You know there's a lot moving in this city, there's construction, there's new apartments everywhere, guys are feeling that there's a hype about the place, it's picking up. Money's moving around. People have it, or they're chasing it.
There're people saying this is the New York of Africa, that we're all moving so fast, there's no time to stop. There's two hustles in Nairobi – the daytime and the nighttime.
---