SUVs overtake the Mercedes Benz as Nairobi's status car
(Read article summary)
Despite the fact that four-wheel drive is no longer necessary to navigate Nairobi's roads, SUVs are an increasingly frequent sight on the streets.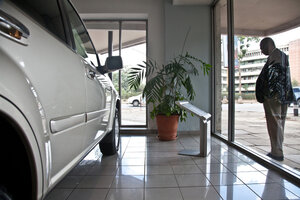 Brendan Bannon
This post is part of the Daily Dispatches project chronicling life in Nairobi, Kenya throughout the month of April.
Mike Pflanz charts the rise of car ownership in Nairobi, and sees how what were once toys of the few are now available to the many.
It was once the ultimate symbol of power in Africa, a car which gave its name to the continent's often crooked elite: the "WaBenzi."
But the Mercedes Benz is losing its position as the only car to buy to boast of your success as sales plateau, overtaken by Japanese SUVs and muscular 4x4s.
"You cannot overestimate the importance of cars as status symbols here," said Gavin Bennett, director of the Kenya Motor Industry Association.
"And when you had made it, by fair means or foul, you had to have a Mercedes Benz to prove it. Today, that's all changed, those guys are cruising around Nairobi in a big off-roader, none better than the Range Rover HSE."
The WaBenzi, it seems, have become the WaFourWheeli.
---