Where has Chávez taken Venezuela?
After 10 years as president, Hugo Chávez has polarized Venezuela, but inspired its poor.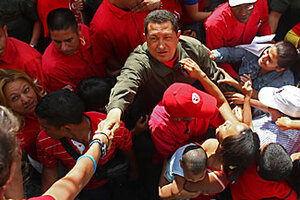 Miguel Alonso/Miraflores Press Office/ap
José Luis Ramirez dropped out of school at age 13 and spent most of his life doing odd jobs. The father of six had little time to think beyond how to make ends meet.
But after Venezuelan President Hugo Chávez was elected and began a series of social programs called "missions," Mr. Ramirez's life changed. He joined a literacy program and later one on television training. Today, he's not only a TV producer, but trains others and sets up everything from street cleaning to fundraising dinners.
"I'm considered a community leader," says Ramirez, almost surprising himself.
Ramirez has come of age alongside the presidency of Mr. Chávez, and he is not alone. This week marks 10 years since Chávez was inaugurated. His decade in power has been a controversial one. To his harshest critics, he is squandering the nation's oil wealth, lavishing it on programs to boost his popularity and on allies abroad while crime and inflation remain rampant and unattended. To his supporters – and there are many – he's the first modern president to care about the poor and offer leadership in a region that has long been overshadowed by US foreign policy. Love him or hate him, many residents, analysts, and politicians say his most lasting legacy will be a sense of participation that has bloomed here – socially and politically – and that has been embraced on both ends of the political spectrum.
"In these 10 years, there is something that Hugo Chávez can take credit for, and that is the social question," says Teodoro Petkoff, a newspaper editor and leading Chávez critic. "The fight against poverty is now on the agenda of every sector."
A polarizing figure
---