Kingston manhunt for Dudus Coke continues as death toll hits 74
The Jamaican police manhunt for alleged drug lord Dudus Coke, which has 74 dead in Kingston fighting, continued Thursday. If Mr. Coke is caught, will it change the role of Jamaica's criminal dons?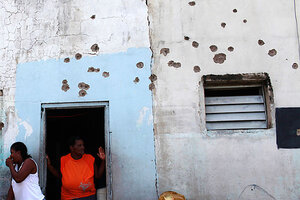 Rodrigo Abd/AP
Jamaican Prime Minister Bruce Golding's about face on a US request to extradite alleged drug lord and Shower Posse gang leader Christopher "Dudus" Coke last week has so far left 67 dead in Kingston fighting, raised questions about the criminal ties of Golding's ruling Jamaica Labour Party (JLP), and raised civil society demands for an investigation of police brutality.
Some flights to tourism-dependent Jamaica have been canceled and relations with the United States, a close ally and benefactor, have been strained. But the one thing the bloody manhunt has not delivered has been its object: Mr. Coke.
Jamaican media reported that Kingston's so-called garrison community of Tivoli Gardens, which was a war zone earlier in the week, was calmer today, amid rumors that Coke had slipped through the police cordon and escaped. Some 500 people have been arrested in the police raids.
Most of the dead so far have been presumed to be gunmen loyal to Coke, the unofficial leader, or don, of Tivoli, who is wanted in the US on drug dealing and gun running charges. But the Jamaican police have a history of firing indiscriminately when inside Kingston's tight, warren-like slums. The Gleaner daily newspaper reported that an unarmed brother of a former Minister of Commerce was killed by police in a botched raid searching for Coke overnight.
---