Storm Tomas loses speed, but Haiti and Jamaica remain on alert
Storm Tomas was downgraded today to a tropical depression, but forecasters expect the storm to pick up speed before it touches down on Haiti on Friday.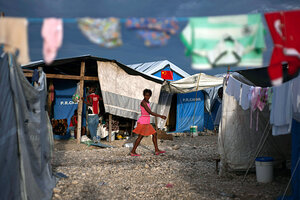 Ramon Espinosa/AP
Haiti is bracing for heavy rain and wind to hit Friday, even as tropical storm Tomas lost speed over the past 24 hours and was downgraded to a tropical depression.
With 1.3 million people living in flimsy tent camps in the capital of Port-au-Prince, and a cholera outbreak in the countryside threatening to spread to the capital, Tomas threatens to wreak havoc on a country already devastated by an earthquake in January that killed up to 300,000 people. The government and international organizations are positioning supplies and manpower to respond to Tomas.
The storm is currently swirling over the Caribbean about 275 miles southeast of Jamaica and 390 miles southwest of Port-au-Prince, according to the US National Hurricane Center (NHC) in Miami. Jamaica, which expects Tomas to hit Thursday, has downgraded its alert from "hurricane watch" to "tropical storm watch." The Dominican Republic, southeastern Cuba, southeastern Bahamas, and Turks and Caicos are all on watch.
---