Haiti's housing bubble, more pressing to some than election or Aristide
Rental prices in Port-au-Prince are estimated at 5 to 10 times higher than before the Haiti earthquake, pricing out local civic organizations in favor of wealthier international NGOs.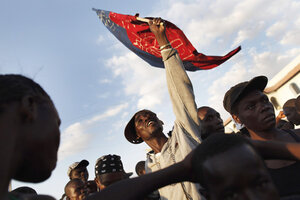 Shannon Stapleton/Reuters
Amid jitters over the expected return today of exiled former President Jean-Bertrand Aristide less than 48 hours before a presidential election here, many Haitians face a more basic problem: a housing bubble that is pricing many locals out of their homes.
Real estate prices, particularly rents, have skyrocketed in Port-au-Prince since last year's earthquake that killed over 200,000 people and displaced 1.5 million more.
"The quake destroyed thousands of housing and office units in the city and brought an influx of non-governmental organizations from around the world," says Beverly Bell, founder of Other Worlds, a US-based non-profit that supports over 30 grassroots community organizations in Haiti.
The foreign organizations and their workers often have more funds at their disposal than the average Haitian organization or worker.
"There's a dual economy here since the earthquake – the international NGO economy, and then what everyone else can pay. Rental prices in Port-au-Prince are now 5 to 10 times higher than before the quake. There's a sense now among many Haitian property owners that now is the time you can get rich," she says.
NGOs can afford to pay double
---