Concerns swirl over safety of 'uncontacted' Amazonian tribe
The reservation of the Xinane, a remote Amazonian tribe in Brazil that appeared in footage this year aiming bows and arrows at a plane flying overhead, may have been overrun by drug gangs, underlining new threats to isolated tribes across South America.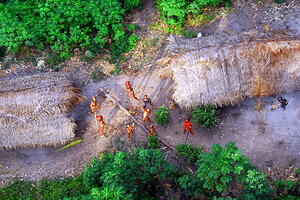 Geison Miranda/Newscom/File
The whereabouts of a remote Amazonian tribe who appeared in remarkable footage earlier this year aiming bows and arrows at a plane flying over their jungle homes was unknown Monday after government officials sent to protect them were forced to abandon their post and flee from armed drug traffickers.
Traffickers crossed the border from Peru and threatened officials from the National Indigenous Foundation (Funai), the government body charged with protecting Brazil's isolated Indians, a foundation spokesman said, underlining new threats for isolated Indians as traffickers seek new territory and routes.
"This is extremely distressing news," says Stephen Corry, director of Survival International, an indigenous rights group based in the UK. "There is no knowing how many tribal peoples the drugs trade has wiped out in the past, but all possible measures should be taken to stop it happening again."
The officials monitoring the tribe fled and the traffickers ransacked their jungle camp before Brazilian police reinforcements could reach the area.
Police have now retaken the base close to Brazil's western border with Peru, and Funai officials are once again on the ground.
Two dozen officers tracked down and arrested one man, named as Joaquim Fadista. Mr. Fadista had already been detained in Brazil on trafficking charges and extradited to Peru.

Officials believe Fadista was involved with a group trying to carve out new cross-border cocaine routes, or was working for loggers who covet the timber growing in the untouched forests where the group, called the Xinane, live.
They are particularly worried at finding an arrow head in one of the trafficker's abandoned backpacks.
---