Burma: monks vs. junta
Officials move refugees out of monasteries to stem monks' influence.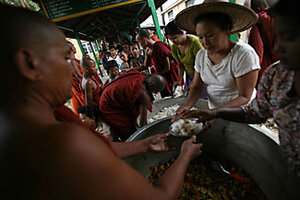 Getty Images
The longstanding tensions between the two largest organizations in Burma (Myanmar) – the military and the Buddhist clergy – are finding new outlets as both groups confront the devastating aftermath of cyclone Nargis.
The monks have temples sheltering victims in the delta – and have begun to organize funding and supplies for victims, which they hope to deliver via an underground network of sympathetic citizens and exiles worldwide and in Thai border areas such as Mae Sot.
But nearly two weeks since the storm struck, the military, unquestionably, has the upper hand, with guns, helicopters, and relief supplies. And now, it is starting to force cyclone victims out of monasteries into tent camps, prompted by concern that the monks could help spur protests.
Benjamin Zawacki, a researcher in Bangkok with Amnesty International, says the government has the right to relocate people for their well-being in an emergency. "But if they are being moved on account of being associated with the monks," he says, "it's emblematic of the last 40 years, where the government is putting its survival over the survival of their people. Their rights are already being violated. As good Buddhists, people are used to hanging out in monasteries."
Ananda, a Burmese monk who says he fled to Thailand after leading an antigovernment protest of 270 monks in 2003, says the monks wield considerable influence. "People only have two choices: Will you demonstrate, or will you die?" he says. "If the monks organize people, there will be big demonstrations again. So the government wants to separate monks and the people."
---