Why South Korea hesitant to blame North Korea in Cheonan ship sinking
South Korean investigators cited an 'external explosion' in the sinking of the Cheonan three weeks ago. The government is moving cautiously toward blaming North Korea, though it appears keen to avoid an escalating crisis.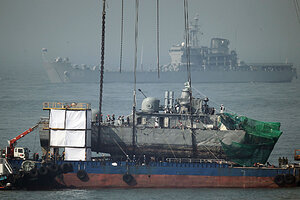 Lee Jung-Hoon/Yonhap/Reuters
Top South Korean officials moved inexorably Friday toward blaming North Korea for the sinking of a Navy ship three weeks ago, in a case in which many see the government's integrity and judgment in the balance.
While South Korea's defense minister warned of "a grave national security issue," the government clearly hoped to avoid an escalating crisis that might jeopardize economic success as well as the ability of President Lee Myung-bak to govern effectively.
The government "keeps saying there will be a firm response," says Han Sung-joo, a former foreign minister and ambassador to the United States, "but that doesn't mean a military reaction or an eye-for-eye response."
Defense Minister Kim Tae-young sought to end suspicions among South Koreans of a cover-up as investigators sifted through the wreckage of the stern of the ship in which dozens of sailors were trapped. The bodies of most of the 46 victims were recovered from that section, which broke off in the explosion, while 58 others in the forward portion escaped.
Yoon Duk-yong, one of the lead investigators, said the ship seemed to have been sunk by "an external explosion," not by ammunition or fuel blowing up. A former South Korean submarine captain, Jung Sung, wrote in a newspaper here that it was "highly likely that a torpedo fired from a submarine or mine destroyed the ship."
---